Ah, the magic of Amtrak…
I am on my way back from California, a journey of two days on the train. This time, I am in a room at, so I'm able to be isolated. I should be working on other things, but I wanted to share…
Even though I have been working with a mentor on a particular script, my gut instinct keeps telling me that what I am missing is something more than "structure."
In my research for that something, I found a book, The Anatomy of Story by John Truby. Thursday, the day before I left California, I was talking with a friend I greatly admire. She mentioned having been a student of John Truby, so I was anxious to dive into his book. I spent my entire first day on the train, absorbing Truby's foundations of story — which are speaking to my soul — and finding my "missing something." I would highly recommend it to anyone for any form of writing.
This morning, early, I ventured out of my room to the dining car. What a wonderful way to start this day, sharing a meal and conversation with three diverse, interesting individuals. And for me, a confirmation that I am where I am supposed to be if I allow life to flow.
This time I asked for names and contact info for:
Bill, African American, 76 years old, a Vietnam vet with the results of "Agent Orange." Originally from Alabama, now in Santa Ana, California, Bill lost his wife of 51 years in March this year. He is on his way to visit his brother in Chicago. A wonderful spirit and great sense of humor.
Jan, 70, a retired teacher from Ohio heading home, is finishing a summer trip with good friends, also retired teachers and all within the same rural school district. Their trip consists of camping, hiking, and healthy activities. Warm, friendly smile, and a bright, open demeanor, I would have guessed Jan to be in her late fifties.
And then, seated across from me, phone in hand and earbuds in place, sat Nathaniel Dukes, 19. I give his full name because we will need to watch for it in the near future. "Nate" is African-American, originally from Kansas, now in his last year of college in Oklahoma. His major: film production. Nate is a shy, handsome young man with a great smile, who graduated high school online. (That says a lot to me about his drive.) His goal is to be a director. There was something in his eyes that tells me he will make it.
Once again, this two-day trip is much too short.

COMING SOON! Karen Carlson's Free 4-Part Online Webinar on Discovering Your Own Inner Actor Potential…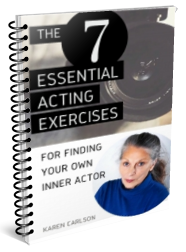 If you liked this post, be sure to grab your own copy of Karen Carlson's "The 7 Essential Acting Exercises" (PLUS updates, great offers, and other goodies). Just tell us where to send them:

Share this article:
Comments
comments
Powered by Facebook Comments