The last time I "clocked in" with my writing for this site, I was on a train headed to Los Angeles.
I arrived early the morning of July 20th, met by my "daughter," Robin. Having only that evening to meet my host, Robin's husband, Doctor Chris Landon (or "Doc"), face-to-face for the first time and to learn a little about each other, the following interview took place the following afternoon.
So that you can understand the full impact of this place and these amazing people in my life, let me explain as briefly as I can.
The Ventura Adult and Continuing Education (VACE) School is a full accredited school in Ventura, CA. The students range from 16 to 90 years old. Many of the younger students have come from the edge of society. Basically, they have been "discarded," told they have no value.
Here's how their website puts it: "VACE prepares diverse learners with academic, vocational and technological competencies for the 21st century global workforce. It is dedicated to meeting each individual student's vocational needs and to the development of self-worth through assets building and educational opportunities."
Originally, Doc, who runs a medical clinic in Ventura (among fourteen hundred other things), went to the school for their high-end digital multimedia technique capabilities. He wanted to be able to set up video conferences with doctors and clinics in Latin American countries. A young boy who had been brought to the states for clef palate surgery had returned to the jungles of Honduras. Doc wanted to be able to do checkups via video. Enabled to do so, Doc partnered with the school.
He now does a monthly interview show.
Yes, he has brought in some phenomenal medical professionals, but as Terry Wieser, retired head of the media department, says, Doc is a renaissance man. His mind knows no limits. His passion is service: to share knowledge, encourage, inform, challenge, inspire. So his guests are from all different walks of life, people who have been there and have done it.
Among some of the previous guests:
David Palmer, the first lead singer of Steely Dan
Jon Anderson, an alumni of the group YES from England
A colleague from N.A.S.A.
A robot…fuzzy, big eyed baby seal
Doc's work is international. In Japan, they use robotic seals as companions for senior citizens. The seal's eyes roll up to look at the senior and cuddle up to them. Seeing the results in patients he worked with there, Doc wanted to introduce this concept to people here. Thus a robot seal was on his show. I could go on and on.
So, I am both humbled and honored to have been one of his interviewees. Because I believe so strongly in what he and this school accomplishes, I will be teaching a workshop there on September 15th. The students who have filmed, lit, and edited this interview will be doing the same with the workshop. When a student graduates from VACE in the media department, they have knowledge and skills that will enable them to get jobs in the entertainment field.
So, I hope you find the interview at least interesting. As Doc says, "Everyone has a story." And it will help to explain my venture here in Ojai, CA. More on that to follow soon.

COMING SOON! Karen Carlson's Free 4-Part Online Webinar on Discovering Your Own Inner Actor Potential…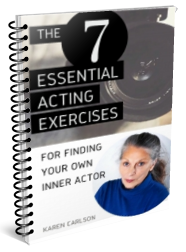 If you liked this post, be sure to grab your own copy of Karen Carlson's "The 7 Essential Acting Exercises" (PLUS updates, great offers, and other goodies). Just tell us where to send them:

Share this article:
Comments
comments
Powered by Facebook Comments