June 24th, Friday, 5 a.m. came very early. Actually, at 3 a.m., storms and severe lightning woke us all. So really, from 3 to 5, I tried to go back to sleep but couldn't.
I began to go over in my mind, the outline I had made before going to bed. I was to give a two-hour workshop at 9 a.m. at Stage Post Studio in Nashville. This would be the opening for Actor-Com, sponsored by Women In Film, as a two-day event (following a very successful Film-Com) with many workshops or speakers meant to help actors who are already in — or want to be in — the business today.
Sometimes, having too much time to think, especially in the wee hours of the night, is not a good thing.
By the time my son and I left for Nashville at 6:30 a.m., I was feeling very insecure about what I, a dinosaur, could impart to anyone who wanted to be an actor. Too late to call in sick, nor would I ever do that. I am a professional and I had made a commitment. As my friend Carla said when she greeted me there, I would best just "go with the spirit."
First, remember this is from my perspective. I think the 2+ hours were well received by the 50-or-so people attending, and productive for me as well. It was fun sharing some of my past, but it really help me put in perspective where I am today and what I am doing to accomplish yet another goal: writing and directing a film.
But because I believe strongly in "paying it forward," I have a desire to pass on any techniques or skills I have learned that work for me. So while I shared only a few of the exercises I was taught when attending classes in New York, I stressed that an actor's entire "being," from head to toes, is his/her instrument. And to "play" that instrument in the fullest sense as an actor, in my opinion, one needs to be a sponge, constantly learning, always stretching outside their comfort zone.
It was so nice to look out at such a diverse group age-wise, the youngest being nine or ten. Many in their late teens. Middle age. And my generation, eager to "get the gears going again." No iPhones or laptops. Eyes making contact with mine. Many taking notes. And the nodding of heads when I touched on something they remembered or were familiar with.
Communication: a great gift and a necessity for any actor.
I wish to thank Actor-Com and Women In Film for a lovely, lovely 2+ hours, and for several new friends.

COMING SOON! Karen Carlson's Free 4-Part Online Webinar on Discovering Your Own Inner Actor Potential…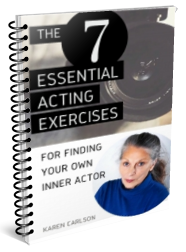 If you liked this post, be sure to grab your own copy of Karen Carlson's "The 7 Essential Acting Exercises" (PLUS updates, great offers, and other goodies). Just tell us where to send them:

Share this article:
Comments
comments
Powered by Facebook Comments