When I first came to Tennessee in the early '90s, it was suggested by my mentor, Reneé Valenté (originally from New York), that I should meet Ruth Sweet, also from N.Y., who was involved with the theatre in Nashville.
I called Ms. Sweet, and she invited me to attend one of her classes, which I did.
It was exciting to me to find the level of quality and intense dedication to acting that I had experienced while studying acting in New York in the early part of my career. Many of the exercises Ruth used in class were familiar to me.
After my third class with her, Ruth asked me to stay and talk with her in her office. Which I did. What she asked of me left me speechless. She asked me if I would consider teaching a class on just the exercises I had learned in N.Y. classes. I could be a part of her school.
First of all, never ever had I thought of "teaching" anything to anyone, let alone something I felt I still had so much to learn myself. Sure, I could teach you how to cook an authentic-style omelet. But acting? I didn't know enough.
She didn't agree with me but understood where I was coming from and said, "When the time is right….".
Ruth Sweet passed in 1998. And my personal life was in turmoil. So when I was approached about teaching a workshop in Nashville at that time, I decided it would be a much needed challenge. I pulled out all my notes from classes I had taken, read all the books I had collected on acting, directing, writing, etc. and took the plunge.
Surprisingly to me, it was an amazing eight weeks. I learned as much, if not more, as those who studied with me. And since then, off and on, I have taught workshops in Tennessee and Louisiana. I believe in "paying it forward." I also think that sometimes all one needs is to hear, "If you can dream it, you can do it."
I am now in the later part of my life. My son, Kelsey, has built this site for me so that I can continue to pass it on.
Teaching takes an enormous amount of time. Selfishly, I am doing what I really always wanted to do back when, but needed to provide an income, thus acting did that for me and my family. I am writing and soon will be directing. It is putting all my skills to test, and I am learning new skills everyday.
Please, understand then, when I talk about "The Greats," those were my teachers. My path to the skills I have. You must find your own path, what works for you and what doesn't.
There is no one method. In my language, "The Method" simply means whatever works for you. It is yours to own and use, and nobody else's business, unless you choose to make it so.
So get ready to begin again with me. It's time!

COMING SOON! Karen Carlson's Free 4-Part Online Webinar on Discovering Your Own Inner Actor Potential…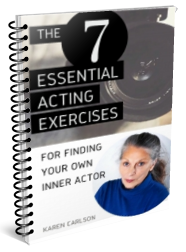 If you liked this post, be sure to grab your own copy of Karen Carlson's "The 7 Essential Acting Exercises" (PLUS updates, great offers, and other goodies). Just tell us where to send them:

Share this article:
Comments
comments
Powered by Facebook Comments